Pflaumenkuchen, sometimes known as Zwetschgendatschior is a wildly popular plum cake dessert in Germany. The yeasted dough bakes into something reminiscent of shortcake.  The plums impart tart and sweet flavors as the fruit's juices flow into the cake as it bakes.  The recipe is classically made with ripe plums but this recipe works beautifully with other stone fruits like nectarines, peaches. If you have an array of these fruits handy, try this recipe with a combination of fruits.
Prep Time: 80 minutes
Bake Time: 40 minutes
Total: 2 hours
Serving Size: 10 slices
Ingredients
Directions
Combine butter and sugar in a bowl.  In a separate bowl, mix together the flour, salt and instant yeast. When both are mixed well, combine the two bowls of ingredients. Then, a

dd milk (at room temperature) to ingredients.

Being to work the mixture until dough is formed.

Cover and allow to rise for 30 minutes in a warm place.

Wash, pit and cut up plums. Halve the plums if they are small, or quarter them if the plums are large.

Knead the dough and roll it out. Place the dough onto a round 8″ baking tray/cake tin.

Place

 plums on dough and press gently into the dough.

Allow the dough to rise for an additional 30 minutes.

Preheat oven to 400° F. 

Bake for 35-40 minutes. Look for the edge of the cake to turn golden brown and the plums to soften and give off juices.

Sprinkle with Belgian pearl sugar and cinnamon. Allow to cool before serving.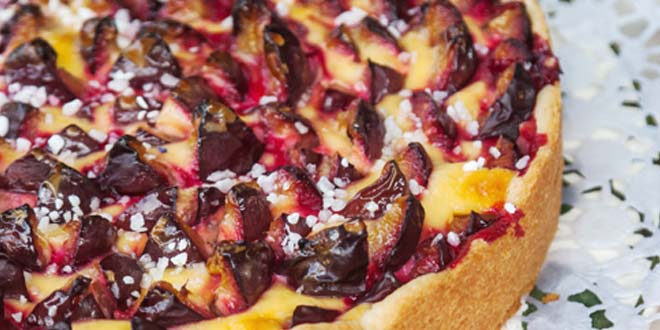 You can line up the plums in neat rows or place them randomly over the dough. Both make for beautiful plating and serving. A scoop of ice cream takes a slice of the plum cake over the top. Enjoy and happy baking!
All Rights Reserved Waffle Pantry
www.wafflepantry.com